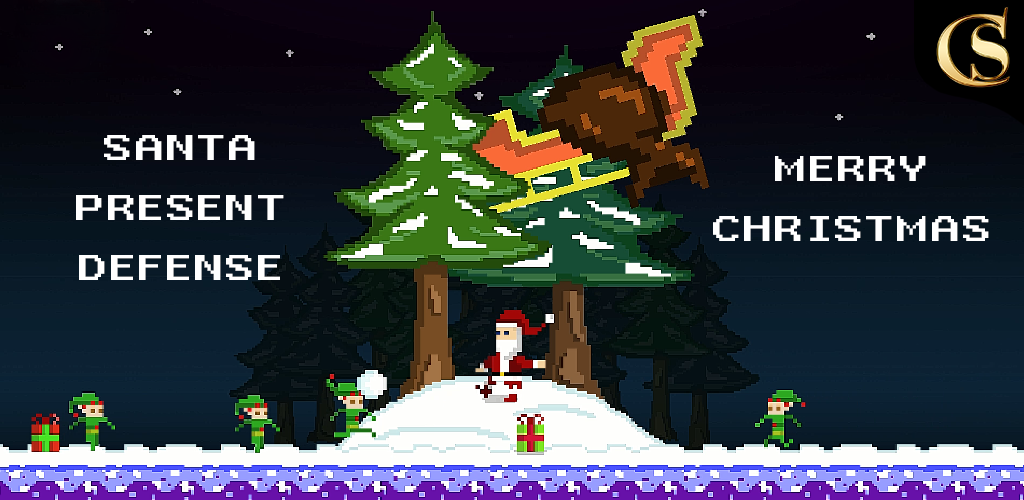 Santa Present Defense
Santa Present Defense is a Christmas Special Project developed in under 48h!

Santa crashed into the woods while transporting his presents. Defend them from crazy christmas elves. Throw your snowballs and smash them all.🎅
Game Mechanics: Click and throw!
* Santa will throw a snowball every time and wherever you click on the screen.
* The angle and speed are calculated based on the distance of the click.
In the Game you can play the normal mode where you have to reach wave 10 in order to get the presents you managed to defend. When opening presents you can unlock parts of the coloured suits of santa.

If you play the endless mode there are infinite waves of enemies. Your Highscore will be uploaded to the Leaderboard where you can compare yourself to other players (mobile only).

During gameplay some enemies christmas trolls may drop an achievement!
Gather them all and a surprise, exclusive pet will appear to help you out in order to defend more presents! (Hint: It's nose is red)🤫
🎁🎅Merry Christmas everyone!🎅🎁
Thanks for playing "Santa Present Defense"

You can also find a full devlog video from the making of "Santa Present Defense" on my YouTube Channel "SAVVU"!
Llink: https://www.youtube.com/channel/UC8lklUvWC76lYn1PI6QK32Q?view_as=subscriber
Also available on

Comments
Log in with itch.io to leave a comment.
I just found this game and I really enjoyed it 😁
Hitting with a snowball looks, feels and sounds very satisfying!
It was. It reminds me of playing SnowCraft way back when. This game reminded me on how fun that was. Thank you.
Thank you so much for enjoying my game! I am so glad I could bring back some fun memories.😃
This looks relaxing and fun. I'll play it.
Imagine playing this on Christmas!
Why wait until Christmas? It's fun now.